Loup Logistics is Proud to Announce that Inbound Logistics has Named Us a 2023 Top 100 3PL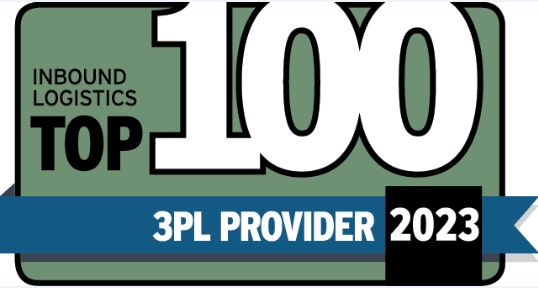 Loup is pleased to announce that we have been named a 2023 Top 100 3PL by Inbound Logistics for the 2nd year in a row! Each year, Inbound Logistics editors select the best logistics solutions providers by carefully evaluating submitted information, conducting personal interviews and online research, and comparing that data to their audience's burgeoning global supply chain and logistics challenges. Loup was one of 300 companies that were reviewed, and we could not be more grateful to be selected among the top 100.
"When companies are faced with unexpected demand and growth, a need for technology and automation, and other supply chain challenges, they turn to best-in-class 3PLs such as Loup Logistics. In recognition of that effort, Inbound Logisticss editors selected Loup Logistics as a 2023 Top 100 3PL provider," says Felecia Stratton editor of Inbound Logistics.
The official list has been published in their July magazine which can be found on their LinkedIn or company website at www.inboundlogistics.com.
As a wholly owned subsidiary of Union Pacific Railroad, we have access to best-in-class technology and carriers to ensure our customers' satisfaction. Receiving this award would not have been possible without dedication from each of our teams. Each day employees work to create and improve our supply chain visibility and management portals to ensure seamless experiences as product moves across the continent. Our sales representatives and consultants have priceless knowledge that provides customers with expert solutions to their challenges.
Our Vice President, Josh Perkes, reflects on the team's hard work that brought us here, "At Loup, we are driven to find supply chain solutions and the team works hard every day and night to help our customers deliver their products across North America. We really appreciate this recognition from the work we do 24/7 to create a seamless logistics product."
We can't thank Inbound Logistics enough for this highly recognized award, and we especially thank the Loup team for doing the work to get us here.
Learn more about the solutions Loup Logistics provides at Louplogistics.com.

About Inbound Logistics
Inbound Logistics, the demand-driven logistics magazine, is the leading multi-channel content provider targeted toward business logistics and supply chain managers. Inbound Logistics' mission is to provide the information and solutions enabling companies of all sizes to become demand-driven enterprises by speeding and reducing inventory and supporting infrastructure, and better matching demand signals to supply. More information is available at www.inboundlogistics.com