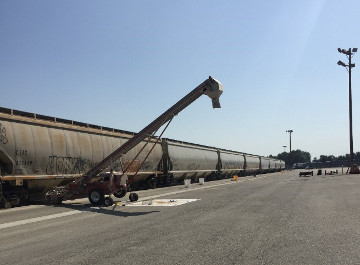 Railport Highlight: Santa Fe Springs, California
Article
Loup's Valla Railport is located in Santa Fe Springs, California, and is operated by Savage Services. This railport, like our other transloading facilities, supports Loup's effort in creating unique logistic solutions to meet the needs of our customers.
What Services Does the Santa Fe Springs Railport Offer?
At the Valla Railport, Loup handles plastics, malt and other dry bulk commodities. In addition to transloading those products, this facility can store and pre-stage intermodal containers on site for our parent company, Union Pacific Railroad.
How Loup Is Supplying Your Everyday Products
One of the railport's biggest commodities is malt, which is a key ingredient in the creation of beer. So, that beer you're drinking at dinner, out on the town, or with your friends may have been delivered to you with the help of Loup.
In addition to malt, this railport also handles the transloading of plastics. As you know, plastic can be found in many products and if it's not in the product, it's usually in the packaging.
The Loup Valla Railport Benefits Our Customers
The Santa Fe Springs transloading facility offers our customers unmatched flexibility. The Valla Railport yard has over 300 rail car spots, offering capacity and track storage. This transloading facility has hopper cars and tanks on a case-by-case basis. It also has a truck scale available. Loup customers can use self-unload equipment with 24/7 access to the facility for maximum flexibility.
The facility itself is in top-notch condition. It is paved, lighted and fenced. In addition to those benefits, it keeps your shipments safe with video surveillance, keypad access and patrolling security.
Loup Valla Railport Fun Fact
This transloading facility in Santa Fe Springs, California, is an old autos facility, so it is completely paved!
Contact Us
Interested in learning more about the Loup Valla Railport or our other transloading facilities? Would you like to explore more opportunities and discover the creative transportation solutions Loup can offer you? Contact us.
Contact Us
Related Articles