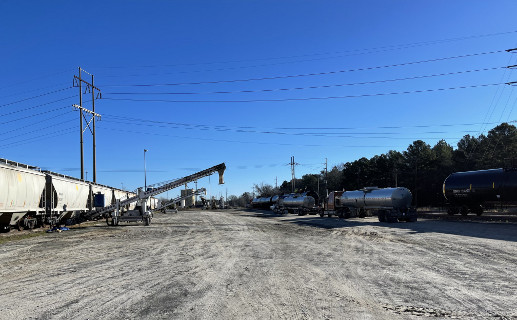 Railport Highlight: Shreveport, Louisiana
Article
With the help of our top-notch railport facilities, Loup is able to offer various transloading opportunities to our customers. One of those railports is located in Shreveport, Louisiana. The Shreveport Railport is operated by Black Gold Terminals, a subsidiary of Blacklands Railroad.
Shreveport Railport Services
Today, the Shreveport Railport is primarily used to transload liquid, industrial and dry bulk commodities. It has four tracks and capacity for about 50 rail cars. Depending on available capacity, the railport can also provide storage for bulk commodities.
How the Shreveport Railport Benefits Our Customers
The Shreveport Railport serves the town of Shreveport and the surrounding areas. Strategically located near the I-20 and I-45 freeways, the Shreveport Railport offers Loup customers convenient access to both rail and trucking options. This gives shippers access to the economic, environmental and capacity benefits of rail without the capital investment in track. It also lets customers leverage the flexibility of trucks for first- and/or last-mile pick-up and delivery, all bundled into one package with rail. The Shreveport Railport is just one of many ways Loup is able to offer unique transportation solutions that help our customers reap the benefits of both shipping options.
How Does the Shreveport Railport Benefit Everyone Else?
The Shreveport Railport is designed to accommodate different industrial commodities that are used as raw materials and/or end products, including products related to general construction, drilling, water treatment and glass production. That means Loup's Shreveport Railport could have been directly involved in transporting the materials in your house, workplace, or really any building you might visit in a day.
New Operator, New Opportunities
Effective March 1, 2021, the Shreveport facility transitioned to a new operator, Black Gold Terminals. We look forward to growing more opportunities in the Shreveport market together!
Contact Us
If you're interested in learning more about the Shreveport Railport, our other railports, or how we can help you with innovative transloading solutions, contact us.
Contact Us