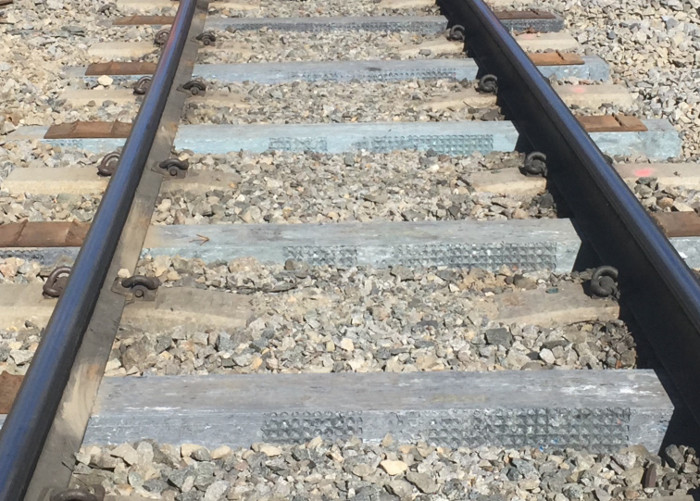 Extending Market Reach With Rail: Shipping Composite Railroad Ties
Case Study
What do hard plastics have to do with railroading? In some places, they are the foundation of the railroad — literally.
That's because hard plastics like detergent bottles, milk jugs and bottles of dish soap can be compressed and molded into rail ties. Traditionally, railroad ties are made of wood, but UPDS customer IntegriCo Composites makes them from 100% recycled plastic.
Using these plastics for rail ties saves them from winding up in landfills. But another benefit of the company's "IntegriTies" is their longer life span — in certain environments, they can last up to four times longer than wooden ties. This is especially beneficial in wet and humid climates like the Pacific Northwest, where ties naturally wear faster.
Shipper Challenges
Ironically, although IntegriCo produces railroad ties, the company is not rail served. With the demand for IntegriTies growing, IntegriCo was looking to expand its reach into new markets — and knew rail was an economical way to deliver to distant customers.
The UPDS Solution
With a desire to move product with greater efficiency, visibility and certainty, IntegriCo came to UPDS seeking a solution. IntegriCo is located in Sarepta, Louisiana, so we connected them with a transloader in Shreveport that could pick up IntegriTies by truck, then transload them to rail cars for delivery. In some cases, the receivers weren't rail served, so we arranged for transloading near the destination, too.
With the UPDS transloader arranging the loading, strapping and waybilling, IntegriCo had a valuable rail solution without any additional effort.
Our Results
With a door-to-door rail solution in place, IntegriCo's product is making its way to new markets. UPDS recently helped the company ship to two Air Force bases in California and is also supporting IntegriCo's municipal division for cities like San Francisco, which use IntegriCo ties for light rail and commuter rail systems.
And let's not forget our favorite IntegriCo customer — our parent company, Union Pacific railroad!
Are you ready to extend your reach with rail?
Contact Us