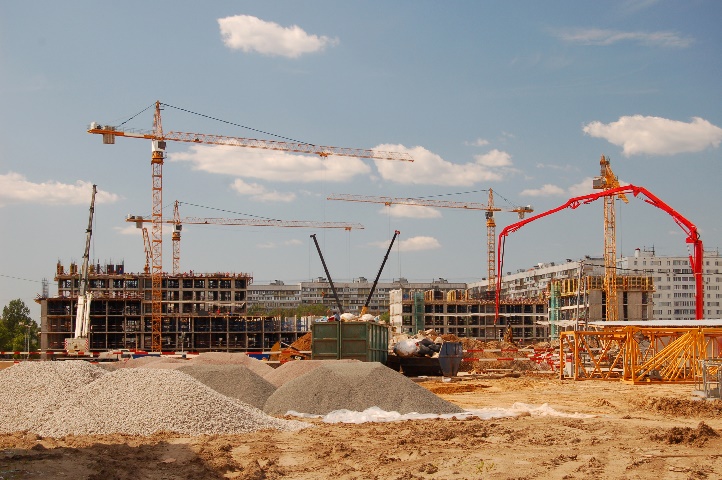 Connecting Construction Sites to Rail
Case Study
Have you ever stopped to think about how many materials are delivered to a construction site? Contractors know that in order to get the job done, a very long list of supplies must arrive on time and in the right order. That means the transportation of those materials is critical to the success of the job. But did you know transportation can also help contractors win jobs in the first place?
Lower Transportation Costs, More Competitive Bids
When contractors bid on a construction job, transportation must be figured into the budget. That's where UPDS steps in with a helpful solution. We give contractors a more affordable way to ship materials to the job site — while still ensuring they arrive on time — so they can submit a lower bid. With more competitive bids, contractors can win more business.
Oftentimes, contractors look to trucks to deliver materials. But that gets pricey. Fortunately, shipping by rail provides a safe, economical alternative.
But what if there aren't tracks near a job site? That happens a lot — and it's not a problem. Our job at UPDS is to arrange for materials to be shipped by rail for the long haul, then have transloaders transfer them seamlessly to trucks for final delivery to the site (or to a storage area nearby). So while there is no perceivable difference between truck-only transport and a rail-to-truck transload solution, behind the scenes it's making an economic impact.
Giving Contractors Access to Rail
So how do we deliver this service to contractors? We're part of the Union Pacific Construction Connection, a service provided by our parent company to deliver materials safely and effectively to construction sites. Between Union Pacific's 32,000 miles of track and our 400+ transloaders, we have a network in place designed specifically to handle these types of projects.
We can ship everything from lumber, rebar, cement and aggregates all the way to pre-fabricated components. Whether your shipments are large or small, we can handle them: We can ship an entire trainload of product or a truckload quantity. And we can also provide immediate inventory availability through forward staging — where large quantities of a product are delivered by rail, then stored until they are needed on the job site. When the need arises, trucks deliver smaller quantities quickly. This on-demand shipping model ensures the just-in-time delivery constructions sites need to stay on schedule.
We have the expertise in place to make shipping by rail easy, too. If you've never shipped by train, we can walk you through the process. And, the UPDS Logistics team can provide shipment visibility and pipeline management, so you'll know when and where shipments will arrive.
Delivering Safety and Sustainability, Too
While costs are important to contractors, we deliver more than just economic benefits. We know the construction industry cares about safety and sustainability, and we share those concerns. Safety is the top priority at Union Pacific and UPDS, and that means we invest considerable resources to keep our employees, communities and your products safe.
Rail also offers an eco-friendly alternative to trucking. On average, one rail car moves the equivalent of four truckloads, which both reduces transportation costs and highway congestion. With one ton of freight moved 452 miles on a single gallon of diesel fuel, rail transportation can help the construction industry in its efforts to maintain a smaller carbon footprint.
Ready to Build Your Solution?
Are you ready to learn more about how rail can provide the construction industry with an economical, safe and eco-friendly solution?
Contact Us