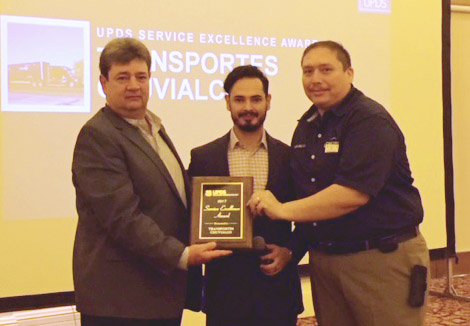 Conference Recap: The 2017 Mexico Carrier Conference
Event
At UPDS, we don't see our relationships with suppliers as merely transactional. Rather, we see suppliers as a critical part of our network with whom we work to find new business opportunities and develop the best solutions for our customers.
In the spirit of working collaboratively, the UPDS intermodal team recently hosted 10 Mexico-based intermodal dray carriers at our 2017 Mexico Carrier Conference in Monterrey, Mexico. Over the course of two days, more than 60 people, including our key railroad providers, gathered to network and create stronger bonds that will benefit our respective businesses, our customers and the automotive industry.
The Year of Service Excellence
Each year, UPDS chooses a theme for the conference and the year ahead. Last year's theme was "The Year of the Customer." This year, the theme is "The Year of Service Excellence," which means we turned our attention to key questions like, "How we can work with our suppliers to take our service to the next level?" and "How can we work together to improve the customer experience?"
We know that as service expectations continue to rise, we must also rise to meet them, so the discussion was focused on the goals ahead. In order to provide service excellence, we must:
Provide 100% timely and accurate event communication
Pickup and deliver on time, 100% of the time
Adapt technology to make freight moves more visible to customers
Working together with our carriers, we are confident we can all deliver on these goals.
In addition to a focus on service excellence, conference topics also included an automotive industry outlook, UPDS rail supplier presentations, a UPDS operations update, and a review of UPDS motor carrier initiatives and growth opportunities.
Awarding Excellence
The Mexico Carrier Conference also included a very special ceremony — naming the UPDS award recipients. Two carriers received awards: Transportes Chuvialco and Auto Lineas America. Transportes Chuvialco received the Service Excellence Award due to their high marks on communication and pickup and delivery performance. Auto Lineas America received the Final Mile Partnership Award for ease of doing business and their ability to adapt to logistical challenges.
Delivering — Together
The Mexico Carrier Conference is one of our very favorite events, as it provides us the opportunity to create more productive relationships with our intermodal carriers — and in turn, deliver better service to our customers. Together, we can work toward our goals of executing a low-cost, high-service strategy, delivering a "truck-like" intermodal product and providing high-touch customer service. We look forward to a "Year of Service Excellence" together!
Ready for a solution worth celebrating?
Contact Us