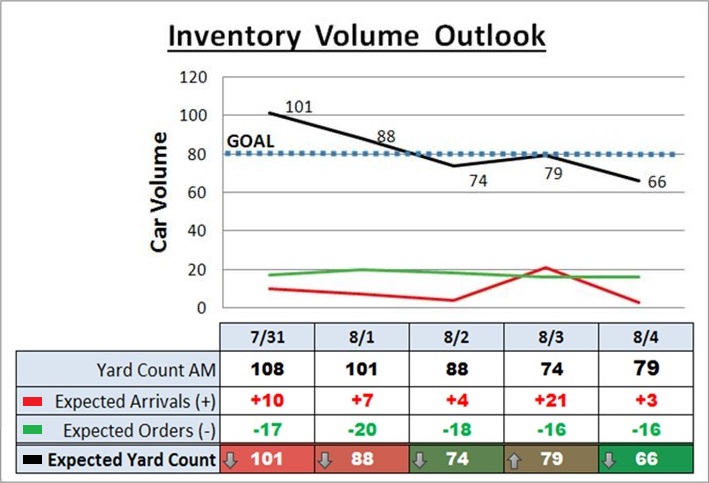 Slashing Demurrage Costs: Leveraging Logistics to Optimize the Supply Chain
Case Study
Shipping can be a complicated matter. Although most people think it's a "Point A to Point B" operation, when a company is receiving raw materials to create a product, shipments come from multiple origins — so it's more of a "Point A, B, C, D, E to Point F" scenario. When these shipments all arrive at the same time, things can get complicated…and costly.
Shipper Challenges
This was the case for one of our customers. As a major chemicals producer, the company received multiple shipments from several sources, traveling on different railroads. These shipments all converged at their plant, causing congestion in the serving yard and making it difficult to manage inventory.
The congestion at their plant was frustrating, but it also escalated costs. Without shipment visibility, excessive inventory sat in rail cars waiting to be used. That meant the company was paying high demurrage costs (fees charged for the extended use of a freight car and excessive dwell in the serving yard). They needed a better way to manage their supply chain to keep inventory flowing and rail cars on the move.
The UPDS Solution
Knowing we could find a better way to manage the pipeline, we assigned a dedicated logistics team to find a solution. Using data from technology platform ShipmentVision, the team identified where product was and when it would arrive. They then developed a scorecard to visually represent this data. This scorecard provides a weekly outlook on how many rail cars are arriving each day, how many are scheduled to leave the yard, and the total number of cars in the serving yard.
Where before the customer had limited visibility, now, in a single view, they can see the amount of inbound and outbound inventory in the upcoming week, and can also monitor whether UPDS is meeting the goal of having fewer than 80 cars in the yard on any given day. This solution ensures rail cars don't stack up in the yard and cause congestion and demurrage fees.
In addition to helping them manage flows, the scorecard is also used to provide consistent communication with the customer about the status of their inventory so that they, too, can have total shipment visibility.
Our Results
Without any impact to production, we worked hand-in-hand with the customer to reduce inventory from 200+ cars at any given time to fewer than 60. By improving shipment management processes and reducing equipment and inventory, the UPDS logistics team was able to cut monthly demurrage charges by 50%, saving the customer money on their total transportation spend.
With a team dedicated to streamlining their supply chain, we didn't just eliminate congestion and cost — we eliminated a lot of frustration for our customer, too.
Are you ready to cut shipping costs — and frustration?
Contact Us