How Carrier Services Helps Build America

My name is Corey Hannan, and I am a Loup Solutionist. I joined Loup Logistics in February of this past year after over 9 years in the logistics industry at an outside organization. My role within Loup Logistics is member of the Carrier Services team which has a vast ranging portfolio of service offerings. The largest part of our work consists of arranging crosstown moves and service recoveries for time-sensitive customer freight, coordinating chassis moves in various markets and finally securing contractors to resolve line-of-road load shifts. The work is dynamic and exciting while collaborating on an agile and adaptive team.
For me, the biggest draw being a part of this team has been the real-world impact we have. While we engage in traditional day-to-day in-office activities on our team, the opportunity to experience the work firsthand has proven even more valuable to understand the impact that our daily tasks provide. In my relatively short time with Loup Logistics, a wholly owned subsidiary of Union Pacific, those opportunities have ranged from visiting carriers and intermodal ramps, to participating in a Rail Relief assignment in Kansas City and most recently observing a load shift being reworked in the Council Bluffs railyard. Each of these experiences has served to put the work we do on the Carrier Services team in invaluable context.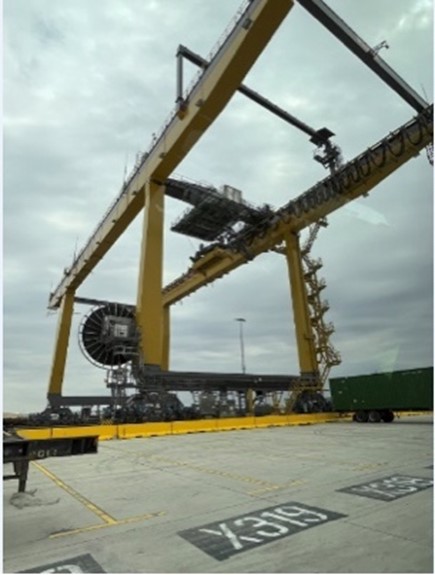 Typically, my view of the load shifting process involves being notified by the Union Pacific Mechanical department that a leaning container has been identified. My team then confirms that the car has been set out on a crane-accessible track and then we secure a vendor to have the material inside the container re-worked to ensure that it is ready to resume its journey safely. Recently, when my team received a notification that a load shift was detected a few miles away from my work location in Council Bluffs, IA, I could not miss the opportunity to see it in person. I was able to see firsthand what goes into the vendor's processes which includes guiding the cranes down the track, positioning the booms, having ground personnel guide hooks into place at the container's connection points and then lifting it off the stack placing it down on the ground. Their skill and experience were really evident in how quickly they were able to fix the issues. I watched them catch the connection points with hooks and cables, along with seeing the two crane operators work in tandem lifting and lowering the leaning box. When the vendor opened the container, you can immediately see the importance of properly blocking and bracing freight inside these containers. In this specific instance, everything in it had come to rest on the lefthand wall, but the vendor that Loup Carrier Services Team had contracted quickly got to work to reposition the material and applied the bracing necessary to prevent another shift down the line.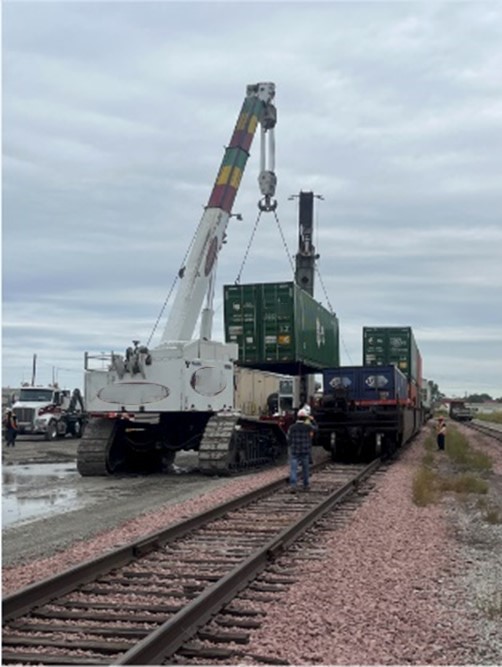 It is awe-inspiring to know that I get to play a small part in the success of our team at Loup Logistics and ultimately Union Pacific. To be a part of the greater success story and knowing that what I do matters to those on the ground on a daily basis is extremely fulfilling. I am thrilled to be a part of this company and to have a career at Loup Logistics in front of me. More than anything, I am proud of the work we all do in overcoming the obstacles and helping to build America.