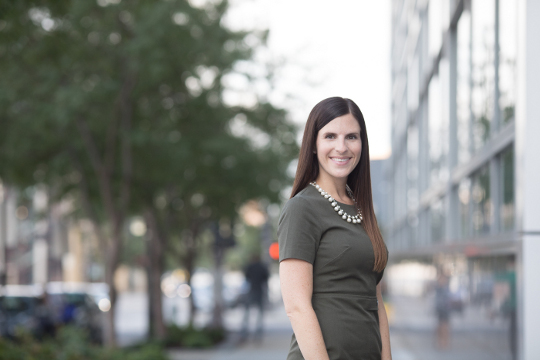 Get to Know Loup's Carload Team: A Day in the Life of a Loup Carload Sales Manager
Article
Meet Jessica Olson. She is a Loup Carload Sales Manager who has worked for Loup's parent company Union Pacific Railroad for 10 years, with three of those years spent at Loup. What made Jessica choose Union Pacific? "I thrive in fast-paced environments and wanted an opportunity to directly impact bottom-line results," she said.
As a Sales Manager, Jessica's responsibilities include supporting customers and identifying facilities that support each customer's needs.
Day-to-day, Jessica:
Supports all plastic, soda ash, industrial chemicals, LPG, and frac sand customers looking for solutions for their transportation and storage needs
Provides solutions for storage in transit (SIT), transloading from truck to rail or vice versa, and last mile truck deliveries
Works closely with her Loup Marketing counterparts
Puts together transportation programs that help customers grow their business and extend their reach in the marketplace
"What I find rewarding about my job is the fast-paced work environment, getting to work cross-functionally with multiple departments, and securing new business for both Loup and Union Pacific," Jessica said.
In her free time, Jessica spends time with her family, friends, husband, and their two Goldendoodles: Bella and Finn. In addition, she enjoys making charcuterie boards, drinking red wine, and going to the movies, especially opening night of a Marvel movie! Looking to the future, Jessica hopes 2021 is a year of travel; she and her husband plan to go to Hawaii, Banff, Yosemite, and Scotland one day.
Want to learn more about how Carload Sales Manager Jessica Olson can help support you through logistic solutions?
Contact Us