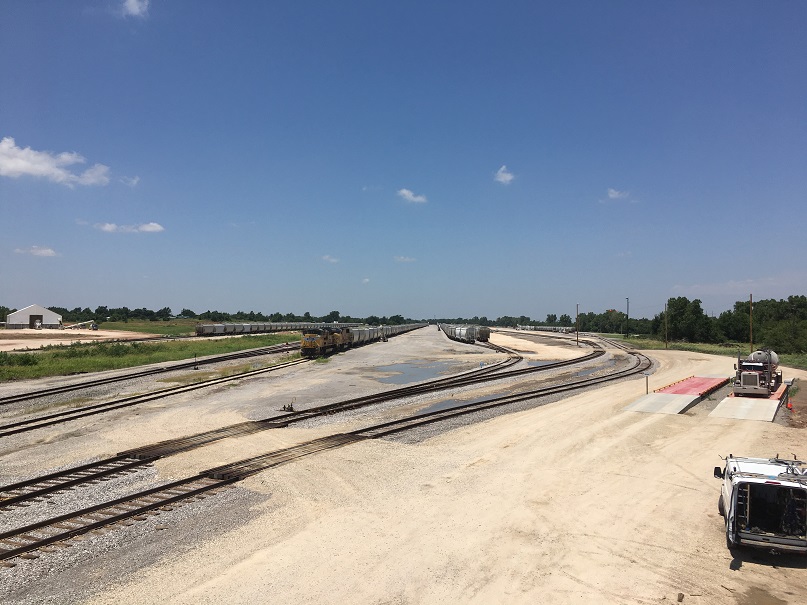 Loup Opens New Railport in Oklahoma to Meet Local Frac Sand Needs
Announcement
Oklahoma is home to STACK, an active shale play located near the central portion of the state. Production levels are rising in this area, which is great news for oil producers, but they face a challenge: frac sand is required for the horizontal drilling process that produces their product, and the very best sand for the job, northern white sand, is located all the way up in Wisconsin and Minnesota. This very challenge is what drove a Loup solution: establish a railport in El Reno, Oklahoma — right in the middle of the STACK shale.
What's the Role of El Reno?
How does opening a railport in El Reno solve the problem? The most cost effective way to move frac sand (and other bulk commodities, for that matter) long distances is by rail. The El Reno railport provides a location for frac sand trains to "land" — in other words, the railport provides plenty of room for long frac sand trains to arrive and offers places for rail cars to be stored on site. Once these trains land, frac sand can be transferred to trucks for final delivery to various locations in the area.
How Does the Railport Benefit Shippers?
Because the El Reno railport is located strategically in the middle of the STACK shale, trucks don't have to drive far to make their deliveries. The railport's close proximity to drilling sites results in two important outcomes: 1. Efficiency – trucks can make more turns per day 2. Reduced drayage costs thanks to shorter trips. Add cost-effective long-haul rail shipping, and shippers lower their total cost per mile.
"The El Reno railport is a perfect example of our strategy to locate in underserved rail areas and support the transportation needs of growing markets," said Shawntell Kroese, Vice President, Loup. "El Reno will be a valuable solution for our customers today and for shippers of a variety of commodities in the future."
Although the El Reno railport currently handles frac sand, it also has the potential to support other commodities, like OCTG pipe, cement, barite and more.
Want to learn more about how the El Reno railport can serve your needs?
Contact Us