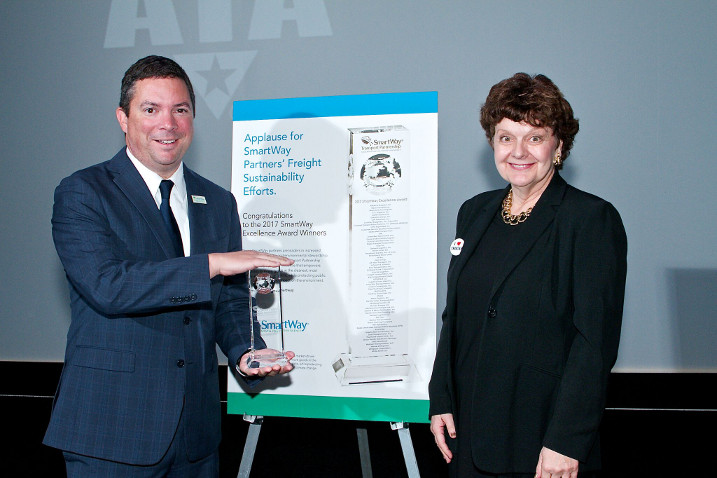 UPDS Receives SmartWay Excellence Award for Second Consecutive Year
Article
UPDS (now Loup) is proud to have been honored with a SmartWay® Excellence Award from the U.S. Environmental Protection Agency (EPA) for the second consecutive year. UPDS was once again recognized as an industry leader in freight supply chain environmental performance and energy efficiency.
UPDS received the award based on its ability to reduce fuel consumption and associated greenhouse gases through innovative transportation offerings, including environmentally friendly rail solutions. We also work to reduce empty loads and increase shipment efficiency. For instance, UPDS has rerouted intermodal shipments to rail terminals closer to customers, which reduced truck miles by 220 miles per move. Over the course of a year, that equals 31 million fewer ton miles moving on the nation's highways.
"Our goal is to provide the most effective, efficient and economical transportation solutions on the market — and rail helps us do that," said Shawntell Kroese, vice president - Loup. "Rail is four times more fuel efficient than trucks and generates a carbon footprint that is, on average, 75 percent less than trucks. By leveraging this transportation mode, we help shippers reduce their impact on the environment."
UPDS was one of 62 companies in all — and one of just three logistics companies — to receive this distinction, representing the best environmental performers of SmartWay's 3,600 Partners. The Excellence Awardees were honored at the American Trucking Associations Management & Exhibition Annual Conference held in Orlando, Florida, on October 23, 2017.
"Since 2004, EPA and the business community have collaborated through the SmartWay Partnership to reduce the economic and environmental costs of goods movement, a vital sector of our national economy," said Christopher Grundler, Director of the EPA's Office of Transportation & Air Quality. "This year's award-winning freight carriers, shippers and third-party logistics companies demonstrate that they can move more goods, more miles, while using less fuel. These firms are not only serving the growing needs of their customers — they are also doing their part to keep our environment clean and protect human health."
To learn more about our innovative transportation solutions, contact us.
Contact Us