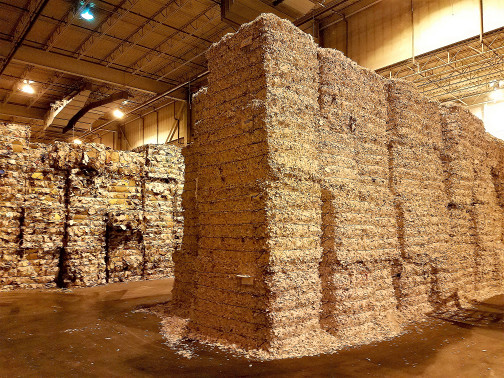 Customer Spotlight: First Star Recycling
Article
When you think about recycling, you probably imagine used paper being made back into paper and empty aluminum cans being reused to make, well, more cans. But some pretty interesting materials can be produced from recycled materials.
Giving New Life to Recycled Materials
Just ask Omaha-based UPDS customer First Star Recycling. They collect recycled materials from residences and businesses (including UPDS and our parent company Union Pacific), sort and process them, then ship them off to customers who give them new life. Yes, paper may become paper and aluminum may be reincarnated into another can, but that plastic park bench you sat on the other day? Or your carpet — or even the clothes you're wearing? First Star customers use recycled materials to make all of those things, too.
First Star also has some unique materials come through their doors to be recycled. Remember when they stopped making Twinkies? That left a lot of pre-consumer packaging at the print shop with no useful purpose, so First Star recycled it. That was also the case for dog food bags leftover after a packaging redesign. They've also processed huge bundles of defunct scratch-off lottery tickets. And they even have recycled kayaks, paddle boards and septic tanks.
All of these scraps were generated by businesses, which made it possible to recycle them because they were generally free of contaminates and of sufficient quantities to make it economically feasible to be recovered. Better than half of everything First Star recycles comes from businesses, and the company has helped many of their customers achieve close to 100% landfill diversion.
The aluminum cans they process are actually pretty interesting, too. They can be processed back into a can in just 48 hours, and are back on the shelf shortly thereafter.
Processing the "Unrecyclables"
With plenty of recycling experience under their belts, First Star is now embracing a new challenge: recovering non-recyclable products. Currently, plastic-based items like juice boxes, granola bar wrappers, single-serve coffee pods, toothpaste tubes, and packing peanuts aren't allowed in recycling bins and end up in landfills. But, working with the Dow Chemical Company and Reynolds Consumer Products, First Star Recycling is the first company to officially launch the Hefty® EnergyBag™ Program. These bright orange bags allow First Star to collect otherwise non-recycled plastic materials to be transformed into an alternative energy source that burns cleaner than coal. That means fewer tons of trash are sent to landfills and instead a new, alternative energy resource is born.
A Kansas City area company is already using this otherwise-wasted plastic energy source to heat cement kilns. In doing so, the company is currently reducing their dependence on fossil fuels by 5-8%.
Although the permanent program began in Omaha, First Star and its partners aim to expand it nation-wide — and that could have a major environmental impact. For instance, if all of the plastics in Omaha were collected and processed, the resulting energy source could then be used to fuel every diesel truck and vehicle in the City's public works department.
The initiative stands to save the City of Omaha money, too. For every ton of plastics recovered by the Hefty® EnergyBag™ Program, the City saves $23 in landfill costs.
Why UPDS?
A little known fact about recycling is that the biggest expense is shipping. UPDS helps First Star reduce transportation costs by providing transloading services that allow them to ship products to customers by rail.
With an economical shipping solution, First Star is able to expand their market reach as well. For instance, a recycled paper producer in Oregon sources materials from First Star because of their high-quality, uncontaminated products. While there are other recycling companies closer to this paper producer, they simply don't offer the same quality. Because First Star has access to an affordable rail solution thanks to UPDS, they are able to ship to distant customers like this one while maintaining a reasonable margin.
At the end of the day, lower transportation costs, market reach and customer retention all make UPDS a smart business choice for First Star. But they said one more factor makes them like working with UPDS: the people.
Are you ready to make rail part of your transportation solution?
Contact Us