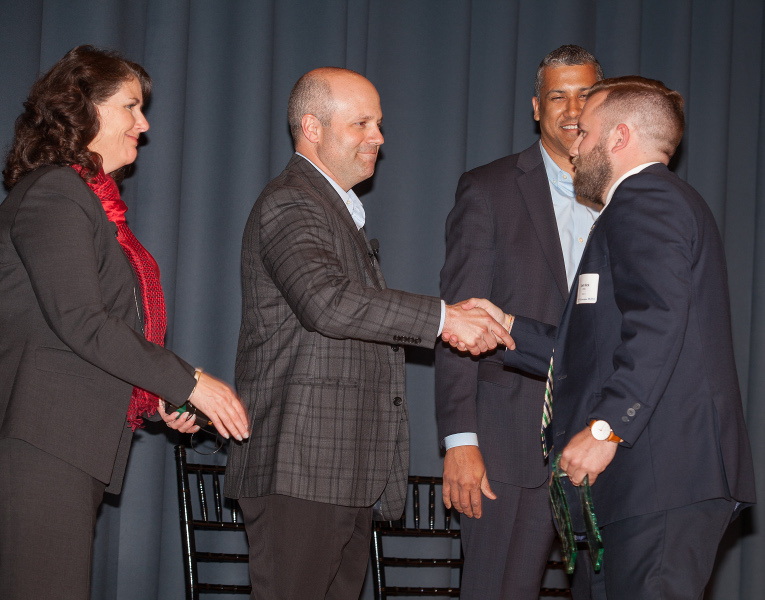 UPDS and Fellow Union Pacific Subsidiaries Unite to Celebrate Excellence
Event
At UPDS, we thrive on finding innovative transportation solutions for our customers, so it's only fitting that we make a point to celebrate the hard work and ingenuity of the teams who make those solutions happen. We do so at our annual Summit Awards ceremony, which celebrates the previous year's achievements.
This year's celebration, held on April 27, was a little different, though. Instead of celebrating on our own, we teamed up with fellow subsidiaries Streamline, which specializes in door-to-door intermodal services, and ShipCarsNow, which provides multi-modal auto transport.
"Each of our companies share a united goal of extending the Union Pacific network, so it made sense for us to recognize our achievements together," said Mike Parker, president-UPDS.
Summit Awards are given to individuals in Rookie of the Year, Quarterback and Coach of the Year categories. An individual or team can win in the Customer Focus, Best New Product or Process, Entrepreneurial Risk Taker and Effective Team categories. Seventy-two nominations were submitted across the seven categories. A review panel consisting of members of all three subsidiaries selected the finalists, and leaders from our parent company, Union Pacific Railroad, chose the winners.
We're proud to say UPDS employees brought home four of the seven awards:
Rookie of the Year — Jonathan Martikainen, logistics service representative
Quarterback — Josh Hick, business manager
Entrepreneurial Risk Taker — Railport Improvement Project: Santiago Hinojosa, senior logistics manager, John Gorman, logistics manager, Maria Macedo, logistics manager, Gustavo Alcantara, logistics manager, Carlos Sanchez, logistics service representative and Alejandro Medina, logistics manager
Effective Team — Operating Team Record Operating & Customer Service Results: Gustavo Rodriguez, logistics manager, Michael Rastetter, senior logistics coordinator, Lisa Gard, senior logistics coordinator, Cale Deardorff, logistics coordinator, Nicholas Villabol, logistics manager and Miguel Goytia, logistics service representative
"It's always exciting to celebrate the great solutions UPDS employees develop for our customers," Parker said. "But it's also inspiring to see what the teams at Streamline and ShipCarsNow are doing — and how we can leverage their ideas for our own successes in the future."
Want a solution worth celebrating?
Contact Us