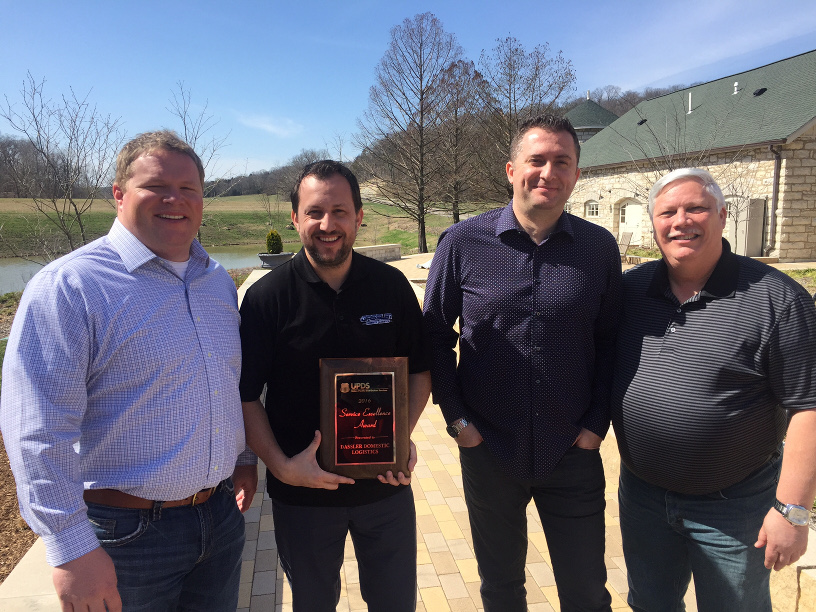 Supplier Spotlight: Dassler Domestic Logistics
Article
"Small but mighty" is a fitting description for Dassler Domestic Logistics, an intermodal trucking company and valued UPDS supplier based in Louisville, Kentucky. Dassler's fleet is comprised of just over 100 power units, but it's their size that allows every person on their team to provide strong service and a personalized commitment to their customers.
Awarded for Excellence
UPDS, for one, feels the love: Although Dassler has only been a UPDS supplier since 2013, the company recently earned our Service Excellence Award for best domestic carrier. This award honors exceptional performance for on-time pickup, on-time delivery and proactive communication. "Dassler is in the top echelon of carriers," said Ben Anderson, U.S. Network Manager-UPDS Intermodal. "They understand our business and prioritize achieving our needs over any short-term hurdles. They operate with customer satisfaction and long-term growth in mind."
Customizing Solutions
With four yards in Louisville as well as assets located in Chicago, Nashville, Memphis and Marion, Arkansas, Dassler prides itself on providing customized solutions for customers, while also anticipating their needs. "Our core strength is adaptability," said Gianni Harusha, President. "Through the dedication of our driver base and office personnel, the smart deployment of our assets and the implementation of technology, our customers have benefitted from custom-tailored solutions increasing their efficiency while keeping costs under control."
UPDS has witnessed Dassler's commitment to providing valuable solutions firsthand. In addition to helping us deliver auto parts on time, the Dassler team has helped us manage equipment and reduce costs at intermodal ramps in Chicago and Marion. By ensuring the proper number of intermodal containers and chassis return from Louisville to their place of origin (Chicago or Marion), they have helped us reduce misuse fees. "Dassler's ownership of equipment management between our Chicago and Marion ramps is a value-added service that highlights our partnership as well as their commitment to service beyond on-time drayage," noted Oliver Burr, UPDS Customer Equipment Manager.
At Dassler, exceptional service extends to all customers, not just UPDS. "We never take any business for granted," Harusha said. "Our culture is to treat any piece of business with the same gravitas as the first day awarded to us. We understand that it takes months to gain a customer but only one day to lose one."
Anticipating Needs
Going above and beyond isn't an exception for Dassler — it's the rule. Their goal is to provide the best service possible while also anticipating their customers' needs, regardless of the challenging Just-in-Time (JIT) environment. "The transportation industry and especially the JIT intermodal environment is not for the weak at heart. We encounter challenges and unique situations every day," Harusha said. "With that in mind, we attempt to accommodate customers' needs on a daily basis. Service is what we offer. By always studying market and industry trends, we are able to anticipate customer needs and focus on the quality of the service we provide to them."
Anderson said the Dassler team's knowledge of changing markets has helped UPDS provide better service for our customers. "Dassler's market research ensures they always have the available capacity we need. As markets change, they are willing to add dispatchers and trucks to serve them — they make our goals their goals," he said.
Sharing Values
Dassler was awarded the Service Excellence Award for their unwavering commitment to delivering for UPDS. But sharing the same values makes it even more gratifying to deliver the honor. "We focus on solutions, and UPDS reflects our same values," Harusha said. "UPDS understands that a successful business relationship is one based on ethical core values and mutual understanding and respect. Working with UPDS is a true pleasure."
Are you ready to find your solution?
Contact Us