Rail 101: How Do You Access Rail?
Article
So, you've learned all about the benefits of shipping your products by rail and are ready to try it out. But what do you do if you don't have access to tracks near your facility? Turn to Loup to help you seamlessly move your shipments between truck and rail. Our intermodal and transloading shipping options allow you to leverage the flexibility of truck and the efficiency of rail – even if you don't have tracks at your door.
Areas Rail Served by Union Pacific
As a subsidiary of Union Pacific Railroad (UP), we have access to its extensive network, outlined by the map below, enabling you to expand your market reach.
Union Pacific Railroad System Map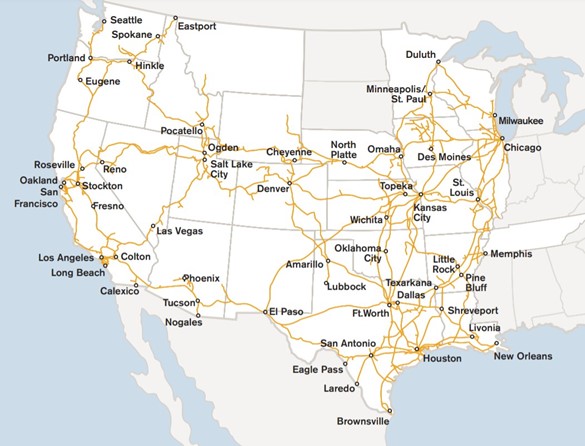 More Access with an Extensive Network of Rail Carriers
In addition to Union Pacific, Loup works with many other rail carriers to transport shipments across North America. UP is a Class I railroad, a company that operates one of the five major rail lines (like interstates) that span across the United States. These companies can work together to ship coast to coast using interchange traffic between railroads. These interchanges include companies in our neighboring countries, Mexico and Canada, to extend their reach even further.
In addition to major Class I railroads, short line railroads play a critical role in helping shippers reach more markets. Short lines are exactly what the name sounds like: shorter rail lines that ship bulk products to local areas. While these railroads are smaller in size, they are a very important asset to Class I railroads as their tracks can be used in interchange traffic and can reach areas where Class I railroads do not have tracks available.
Door-to-Door Transportation: Intermodal and Transload Shipping Options
While utilizing intermodal shipping, you can move products across two or more modes of transportation while keeping your product in the same container throughout the shipment process. Transloading, on the other hand, is similar in the fact it uses multiple forms of transportation modes, but products are moved between conveyances rather than staying in the same container for the entire journey. Utilizing intermodal or transloading shipping allows customers to reap both the benefits of rail and trucks.
Through effective intermodal or transload shipping solutions, Loup is able grant access to rail no matter your origin or destination. We can work with UP, or any other rail carrier, to provide you with the most economical and efficient shipping solution.
Contact Us
If you would like to learn more about the benefits of rail and how Loup's door-to-door transportation solutions, contact us.
Contact Us