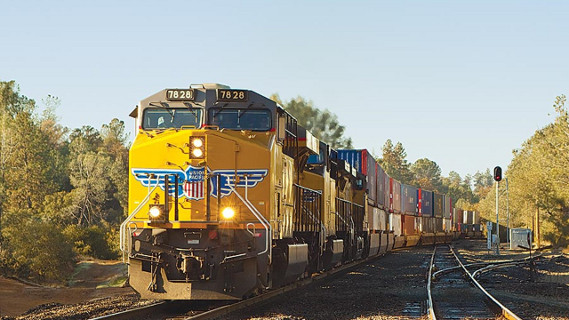 Rail 101: Where Can You Ship with Rail?
Article
Rail is an important part of Loup's custom shipping solutions. And if you are new to rail, you may be wondering where you can you ship. We're here to answer that for you!
Where Can You Ship by Rail?
The short answer is anywhere across North America! Railroad tracks span across the entire continent on North America thanks to a rail network made up of Class I and short line railroads.
What Are Class I Railroads:

Class I railroads are the companies that operate major rail lines. The United States has five, one being Union Pacific. These rail companies can work together to ship coast to coast, interchanging shipments from railroad to railroad. These interchanges can include rail companies in neighboring countries, Mexico and Canada, extending the reach of rail even further.

Short Line Railroads:

These are exactly what the name sounds like: shorter rail lines that ship shorter distances. Short lines play a critical role in transporting shipments to areas where Class I railroads don't have tracks of their own.
If you include the ports on the coasts with ocean carriers, you can ship virtually anywhere across the globe!
Benefits of Intermodal and Transload Shipping
At Loup, we create unique transportation solutions to help streamline your supply chain. Oftentimes, we do this by combining multiple transportation modes, like rail and truck. Why do we do this? Utilizing both rail and truck, shippers can enjoy the best of both worlds, including the ability ship just about anywhere in North America as Loup can leverage our own network and Union Pacific's expansive intermodal network, reaching even more markets.
For example, even if you don't have tracks near your origin or final destination, we can offer first- and last-mile shipping solutions. In other words, we can transport your freight from door to door, allowing you to take advantage of more affordable moves using rail for long distances and using truck for shorter distances – the first and last mile of your shipment's journey.
Other benefits of rail include:
An expanded market reach with a larger network
Safer, seamless cross-border shipping
The ability to ship loads of all sizes
Loup Transload and Intermodal Facilities
With Loup's expansive network, we have facilities and facility partners all over the continent that allow us to transload or move your product between train and truck seamlessly. Find intermodal facilities near your destination on our intermodal map or transload facilities with our interactive transload facility map.
Contact Us
If you are interested in exploring a shipping solution combining both rail and truck or have questions about whether your products can ship by rail, contact us.
Contact Us