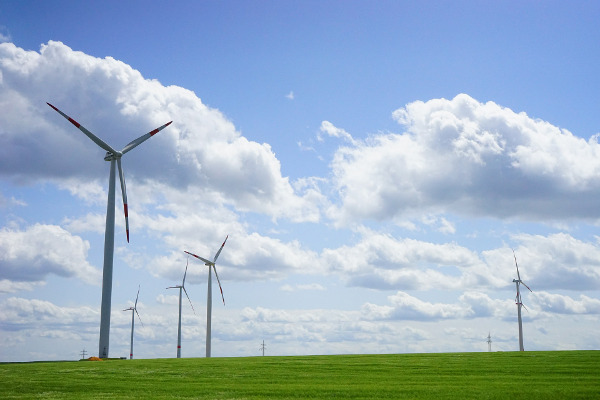 Loup: Champion of the Wind Industry
Article
In honor of last Saturday, World Environment Day, and today being World Oceans Day, we'd like to highlight how Loup is supporting environmentally responsible initiatives, including helping the wind energy market grow. Wind is a clean, cost-effective, and renewable energy source that powers hundreds of communities and businesses across the United States. Energy is harnessed through the help of wind turbines, which are made up of approximately 8,000 components, including blades and turbine towers. Due to their massive size, various components of wind turbines are shipped across long distances to be assembled at wind farm locations across the country. Most importantly, the components need to ship in the safest, most environmentally responsible, economical, and efficient way.
What Are the Benefits of Wind Energy?
Over time, the use of fossil fuels and non-renewable energy has had a significant impact on our environment. However, utilizing wind energy is one way to help reduce our carbon footprint. It's a renewable power source that is not only beneficial to the environment, but offers several other advantages.
Did you know:
Wind is the largest renewable energy source in the United States.
A wind turbine generates enough energy to power more than 500 homes.
There are more than 500 wind-related manufacturing facilities in the U.S., employing more than 114,000 people
With these benefits in mind, wind is an attractive, rapidly growing market, and Loup is proud to play a role in helping the industry move forward.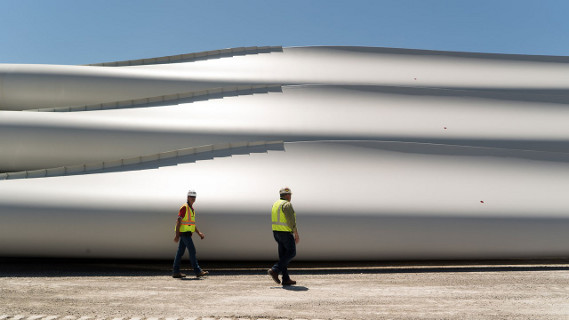 Loup's Optimal Wind Farm Locations
Wind farms are locations where a group of wind turbines are placed to generate electricity. Wind farms are not located in established, urban locations, but in expansive, rural, and sometimes hard-to-reach areas. Top wind states include California, Iowa, Kansas, Oklahoma, and Texas. Oftentimes, wind farms are also areas where transloading takes place, which involves shifting wind components between rail and truck for transport. Our transloading solutions allow us to select optimal locations to utilize rail, then transport the shipment via truck to the final destination. These solutions exercise the extensive rail network of our parent company, Union Pacific Railroad, which allows shippers to reap the economic benefits of rail while limiting highway mileage by truck.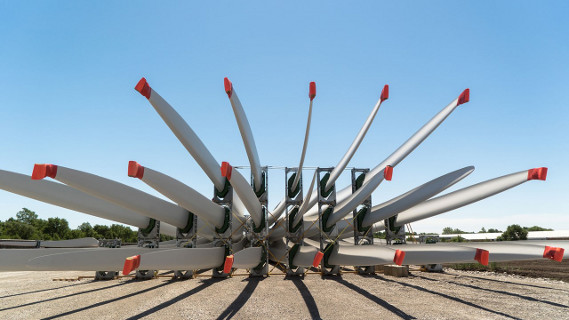 Transloading Wind Solutions
At Loup, we have found our unique niche when it comes to logistics. In fact, we were the proprietor of the wind-to-rail transload market. We were the first to get into the business of transloading wind components starting in 2008 with customer Siemens Gamesa Renewable Energy (SGRE). With access to Union Pacific's expansive rail network, we are able to transport large wind components, like 229-foot-long wind turbine blades. Taking advantage of rail helps free up congestion of oversized loads on busy roadways.
Shipping wind turbine components involves thorough planning and preparation. At Loup, we:
Develop the shipping solution package and help build the train volume.
Identify and establish strategic new wind farm locations.
Execute land preparation and management at these locations.
Handle all the billing and measurements, working with the Harriman Dispatching Center (HDC) to arrange power crews.
Coordinate with the unloader to unpack the stacked wind components in addition to coordinating trucking to the site.
Track and trace the wind shipment.
In all, we create and execute seamless transloading wind solutions from start to finish. When it comes to shipping wind turbine blades and other components safely and efficiently, you can trust Loup's expertise in the wind-to-rail transload market.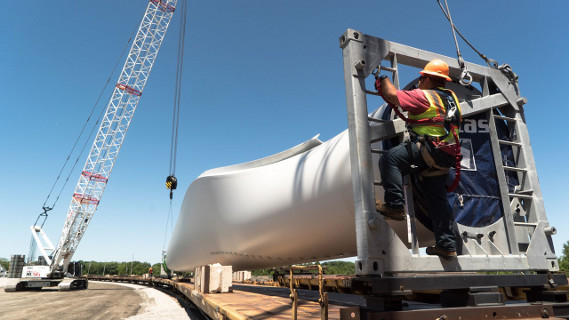 Loup's Record-Breaking Year for Wind Shipments
Thanks to production tax credits for wind energy producers, Loup and Union Pacific saw an unprecedented number of wind-related shipments in 2020.
In 2020, Loup:
Moved over 400 unit wind trains.
Handled over 20,000 wind components.
Participated in over 2,500 wind turbine movements.
Aided wind projects in over 15 states.
What's Next in the Wind Industry
While the wind production tax credits are not in affect this year, we see a lot of promise as the wind market continues to grow. As we look toward the future, especially as the focus on renewable energy remains strong and new tax credits are currently being discussed on the federal level, we are looking forward to continuing to play a major role in shipping wind turbine components safely and efficiently.
Contact Loup, the Wind Experts
If you would like to learn more about how Loup can create flexible, innovative transload shipping solutions for your wind opportunities, contact us.
Contact Us