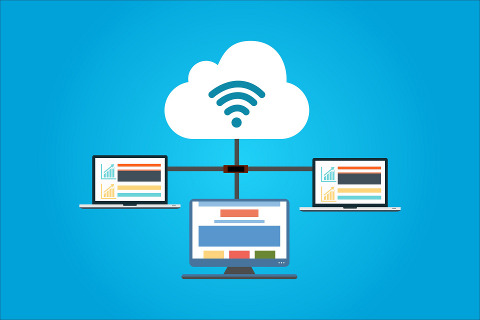 How Cloud-Based Technology Is Transforming Freight Transportation and Logistics
Article
If you have a smart phone, you most likely have hundreds, if not thousands, of files, photos and apps stored in "the cloud." We all know the cloud is not white, fluffy and floating in the sky, but do you really know what it is and what it does?
The cloud refers to servers that are accessed over the internet and the software and databases that run on those servers. Cloud technology eliminates the need for companies to manage physical servers or run software applications on their own machines.
The cloud is particularly useful in the world of logistics and freight transportation, storing critical shipping information that can be accessed via transportation management systems – anytime, anywhere.
Key Cloud-Related Terms and Definitions You Should Know
Here are some key terms you should know to better understand cloud-based lingo.
Cloud Based:

An emerging technology that stores data — not on a physical premises, but in a shared-ecosystem environment.

Transportation Management System:

Commonly referred to as "TMS," the operating platform logistics operations and supply chains use to store and manage data and conduct business.

Application Programming Interface (API):

The push and pull of information between systems. Customers can receive shipment data without intervention by utilizing information from different systems stored in a TMS.

Real-Time Visibility:

Receiving data on shipments as it is occurring.

Software as a Service (SaaS):

When a third-party provider builds an application on a cloud infrastructure for customers to access anywhere via the internet. This allows for pay-per-use models that require low capital investment, minimizing the risk and cost of maintaining the IT infrastructure. However, it also results in less control since a third-party provider manages the application instead of having control inhouse.
What Cloud-Based Transportation Management Systems Can Do
Cloud-based systems are cutting edge and leading the industry. Cloud-based transportation management systems allow companies to receive quarterly system updates instead of manual updates like in the past. These system updates are similar to receiving system updates on your smart phone or laptop. Cloud-based systems are also able to work with customers to funnel up enhancement requests to receive personalized updates based upon prescriptive needs.
Needless to say, we are in a technology-driven era where we can utilize technology to work smarter – not harder – without the need of manual processes.
The Benefits Cloud Technology Brings to Logistics and Freight Transportation
Cloud-based logistics solutions address communication hurdles and allow companies to collaborate and share data in a secure way. Users are able to access shipping information from anywhere with real time visibility utilizing API technology. Customers will be able to track their shipments easier and faster. Companies also greatly benefit because they can efficiently identify and solve any shipping problems that may arise.
Contact Us
If you would like to learn more about how Loup can help you streamline your supply chain and overcome logistics challenges, contact us.
Contact Us