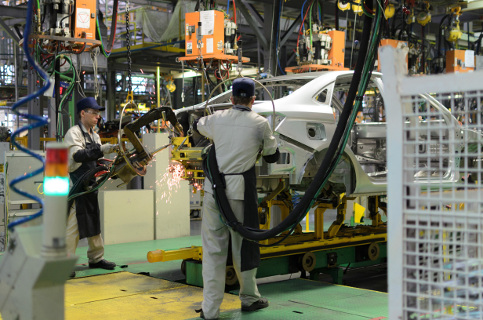 The Value of Just-In-Time Delivery with Loup
Article
Have you ever wondered how a vehicle gets made? In the 1960s, Toyota developed a Just-In-Time vehicle production system creating a lean process to manufacture cars quickly and efficiently that continues to be used today. Because of the high level of automation, Just-In-Time manufacturing is extremely dependent on auto parts being in the right place at the right time. But what happens if parts aren't available?
The Costs of Parts Availability
When auto companies don't have the correct parts at the moment they are needed, the entire production line stops, preventing companies from manufacturing cars and meeting production schedules. That down-time is costly. In fact, when production stops, auto manufacturers lose an average of $22,000 per minute and as much as $50,000 per minute.
Just-In-Time Delivery Keeps Production Lines Running
If stopping production is costly and parts are critical to avoid shut downs, why don't manufacturers just keep more parts on hand? The reason is that Just-In-Time manufacturing is designed to produce cars without excess waste, and part of that means using the exact number of parts for each car no more, no less. Instead of having excess inventory on hand, which is considered wasteful, companies using this system rely on just-in-time parts delivery, where the exact number of parts arrives exactly when they're needed. Because of the time sensitive nature of these shipments, they must be handled with expertise. Fortunately, Loup has been handling just-in-time auto parts shipments for years, and has an Auto Parts Team that specializes in just-in-time delivery solutions for the Autos industry, including offering unique intermodal solution bundles.
Loup Auto Parts Team in Action
The Loup Auto Parts Team offers a variety of just-in-time shipping solutions with varying levels of involvement based on your logistics needs. To deliver these solutions, the Auto Parts Team:
Works with carriers and customers throughout all of North America
Provides 24-hour oversight to ensure safe and efficient operations
Communicates action plans with all carriers and auto parts customers
Monitors shipments to ensure on-time arrival
Our experience and dedication to on-time delivery pays off. Our just-in-time delivery product has consistently been hailed as an industry leader for its reliability, and our customers have honored us with a number of awards as a result.
Contact Us
If you'd like to learn more about the how Loup Auto Parts Team can help prevent downtime and solve your transportation challenges, contact us!
Contact Us