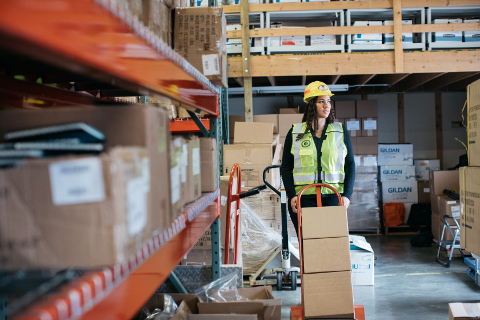 How Transloading Can Solve Your Transportation Challenges
Article
Are you looking to lower transportation costs, expand your reach, or leverage a more environmentally friendly transportation option? Transloading can help.
What Is Transloading?
Transloading allows products to be transferred seamlessly between trucks and trains, letting shippers leverage rail for the long-haul and trucks for first- and last-mile delivery. In other words, transloading allows shippers to access the economic, environmental and capacity benefits of rail without worrying about having tracks at the origin or destination.
Benefits of Transloading
In addition to combining the benefits of rail with the flexibility of trucks, transloading also comes with other benefits, including:
Expanding your market reach with a larger network and more affordable shipping options
Safer, seamless cross-border shipping
The ability to ship loads of all sizes
The Loup Carload Team is comprised of transloading experts who can make it easy to leverage your transloading options, so you don't have to worry about researching locations or learning which ones can handle your products. The Loup Carload Team has all of this information right at their fingertips and is ready to help connect you with the best transloading solution for your shipments.
Products and Equipment
Most products can be transloaded, but some of the more common categories include:
Lumber
Metals
Dry Bulk
Agricultural Products
Foood and Beverage
Plastics
Paper
Dimensional Loads
Just about everything else!
Each transload facility has its own equipment to move products between trucks and trains, including forklifts, conveyors, pump/pneumatic transfers, cranes, and front-end loaders.
Bundled Transportation Solutions
Loup is able to provide transportation solutions no matter where you need to ship. Along with our 22 Loup-operated transload facilities called railports, we can also establish temporary facilities to meet specific customer needs. These mobile transload facilities connect with Union Pacific rail services and come equipped with the proper equipment for the job.
In addition to our temporary facilities, Loup works with more than 800 transload partners across North America. With our partners, we are able to bundle truck/rail/transload solutions to move products anywhere in North America. That means you get the best solution for your supply chain without having to manage multiple transportation partners. With Loup you'll get one package, one invoice and zero worry.
Contact Us
Do you have a certain product you are interested in transloading? Select your commodity from the list below and contact us to talk with our expert market teams!
| | |
| --- | --- |
| Metals | 402-544-2964 |
| Lumber/Paper | 402-544-2424 |
| Dimensional/Waste/Consumer | 402-544-8960 |
| Chemicals/Soda Ash/Plastics | 402-544-7946 |
| Construction | 402-544-0051 |
| Frac Sand | 402-544-7946 |
| Wind | 402-544-2424 |
| Ag Products | 402-544-7972 |
| Autos | 402-544-7972 |
| Mexico | IBRISENO@up.com |
Or, just contact us by clicking on this button!
Contact Us