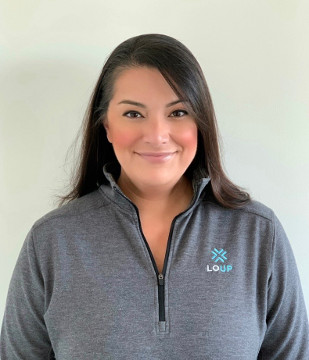 Get to Know Loup's Wholesale Team: A Day in the Life of a Loup Customer Service Manager
Article
Meet Jessica Bell. In June of 2008, she was hired on as a train dispatcher for Loup's parent company Union Pacific Railroad. Following two additional roles at the Harriman Dispatching Center, in February of 2018, she Jessica joined Loup. Today, she leads the Broker Team as one of three customer service managers on the Wholesale Operations team.
"I wanted to work for Union Pacific because it made me the third generation in a railroad family," she said. "I came to Loup in 2018 to learn intermodal and gain the knowledge and skills of managing the entire customer experience from start to finish."
As a customer service manager, Jessica's job responsibilities include managing the customer experience for Intermodal door-to-door services. In her role, she works to build strong and lasting relationships with customers, implement process improvements to enhance the customer experience, and oversees the execution of her team's most high profile shipments.
On a daily basis, Jessica completes tasks such as:
Directing the five person Broker Team
Delivering a high level of service to customers who may have strict shipping and/or receiving requirements
Guiding newer customers through the door-to-door shipping experience
Overseeing daily operations and working closely with the dispatch team
Coaching and developing her employees to provide an excellent customer service
Jessica's team oversees a shipment from the time it is first booked, to the pick-up at the shipper, the line haul across the United States, and to the delivery at the consignee. She finds it rewarding to be a contributor to the supply chain. Her team also has a direct impact on product availability for customers to consume on storefront shelves. Working for Loup, her team's contributions bring an entire network of customers to Union Pacific that otherwise would not have direct access to shipping on rail. "I work for a great team here at Loup," Jessica said. "The collaboration between employees in both customer service and dispatch that makes this all come together is truly amazing."
In her downtime, Jessica enjoys reading books and spending time with her two children, five-year-old son Greyson and seven-month-old daughter Andréa.
Want to learn more about Jessica and how her team can help solve your shipping challenges?
Contact Us