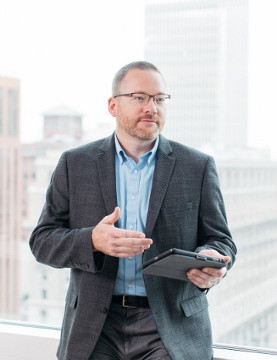 Get to Know Loup's Wholesale Team: A Day in the Life of a Dispatch Manager
Article
Meet Mark Karpf. He has worked at Union Pacific for a total of 8 years and has been in his current role as the Dispatch Manager for the Western United States for 2.5 years.
As the Dispatch Manager, his territory includes, "the bustling metropolis of Los Angeles, the rolling hills of wine country, the Emerald City of Seattle, the Great Salt Lake, and Texas."
On a day to day basis, Mark does things like:
Direct a 6-person team, Blake, Brian, Hunter, Nick, Ali, and Martin, responsible for the Western territory
Ensure they service the dispatching needs of their customers
Manage the equipment and gates
Maintain fluidity in their regions to avoid carrier delays
A fun fact about Mark is that he used to be a Social Studies teacher and loves history and economics which made Union Pacific a natural place for him to land after he left teaching. The transition to Loup was ideal, because when he started, it was in its infancy and it had the aurora and tenacity of a startup.
Mark loves his job and finds it very rewarding. He gets a chance to enact real change every day and be a part of the global supply chain. Most importantly, he loves getting to work alongside the hardest working people at UP headquarters.
In his free time, he likes to work on construction and spend time with his amazing wife and their three "fun killers."
Want to learn more about Mark and how his team can help your supply chain?
Contact Us