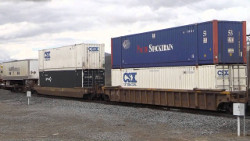 Loup Wholesale Intermodal to Implement Standard Union Pacific Per Diem
Announcement
To align with Union Pacific's Unified Plan 2020 efforts with focus on effective asset management, Loup Wholesale Intermodal will be implementing standard Union Pacific (UP) per diem at UP domestic ramps for containers in "Placed for Loading" or "Placed for Unloading" status more than 6 days.
Per Diem charges are calculated in 24 hour increments with partial days being rounded up to the full next day. The per diem clock will stop when units are made available for pickup, either loaded or empty. We have included the current Union Pacific per diem schedule below as reference.
These changes will be effective September 16, 2019.
If you have any questions, please contact your sales rep.