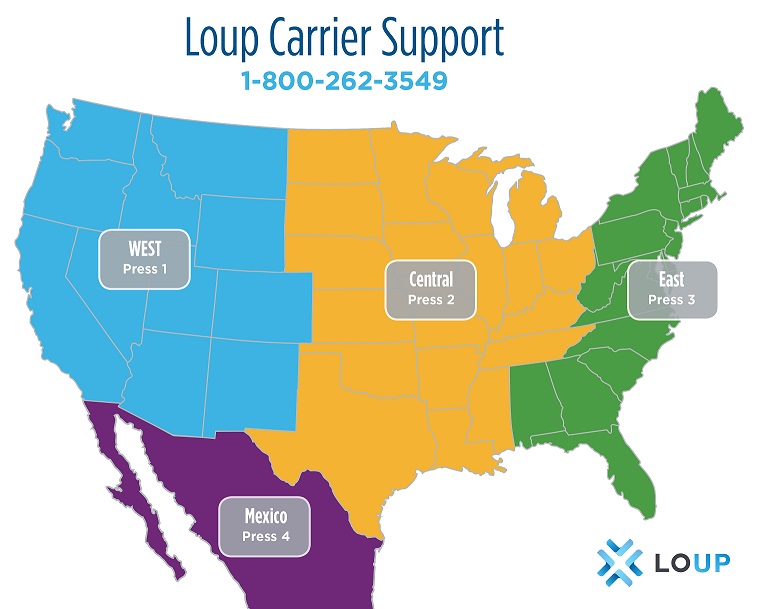 Loup Operations Carrier Support Team Realigned
Announcement
In an effort to improve the quality and timeliness of responses to carrier inquiries, we have realigned our carrier support team within Loup's Operations department.
Providing Better Coverage and More Focused Support
Where before four to five team members were responsible for nationwide coverage, now a group of 10-12 team members will be assigned regional coverage areas. This realignment will allow those who support each of the four regions to develop expertise specific to that territory and, in turn, better meet carrier needs.
Our goal is to:
Improve response times
Promote continuity and better-quality support through consistent contacts
Provide carriers with a more direct path to take action on their needs.
To reach the Carrier Support team, call 1-800-262-3549, then press 1 for the Western Region, 2 for the Central Region, 3 for the Eastern Region and 4 for Mexico.
Regional Alignment
West
Arizona
California
Colorado
Idaho
Montana
Nevada
New Mexico
Oregon
Utah
Washington
Wyoming
Central
Arkansas
Illinois
Indiana
Iowa
Kansas
Kentucky
Louisiana
Michigan
Minnesota
Mississippi
Missouri
Nebraska
North Dakota
Ohio
Oklahoma
South Dakota
Tennessee
Texas
Wisconsin
East
Alabama
Connecticut
Delaware
Florida
Georgia
Maine
Maryland
Massachusetts
New Hampshire
New Jersey
New York
North Carolina
Pennsylvania
Rhode Island
South Carolina
Vermont
Virginia
West Virginia
Mexico
For a printable map of these regions and dialing options, download the PDF:
Questions?
If you are a carrier and have any questions about the realignment — or any other matter — please contact your Carrier Relations representative.
Contact Us